Princess Diana 60th Birthday Coin Campaign
Jul 10th 2021
Princess Diana 60th Birthday Coin Campaign
Affiliate Marketing News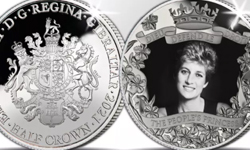 The London Mint Office has another brilliant free coin campaign called Diana 60th Birthday 'The People's Princess' Coin
This year marks what should have been the 60th birthday of Diana, Princess of Wales - without doubt one of the most iconic and influential women the world has ever known. And so, it seemed only fitting to celebrate her life with an eternal tribute to the People's Princess, whose legacy continues to live on 24 years after her death.
Fans of the People's Princess can order a FREE Diana 60th Birthday 'The People's Princess' Coin today (just pay£2.50 postage).
As with all London Mint Office campaigns, this one comes with an assured, no further commitments and any purchase is protected by The London Mint Office 14-day 'no quibble' guarantee.
We also have two other campaigns from The London Mint Office
Prince Philip Commemorative Coin
Elvis Commemrative Coin.
Apply on the platform to run this and start earning some healthy commissions as we expect this to out perform the other two, which have also done incredibly well.
Still need convincing?
That's ok. You probably have loads of publisher accounts and need to know that adding one more will be worth your while. As we said before we've been publishers since 1999 so we know what we want from affiliate networks. Four of the most important things aside from big payouts are...
Explore more about our publisher services using the links below.
We hope we've manged to convince you to create a publisher account but please don't take our word for it. Have a look at what some of our publishers have to say about us.
If we still haven't answered all your questions please click the button below to...